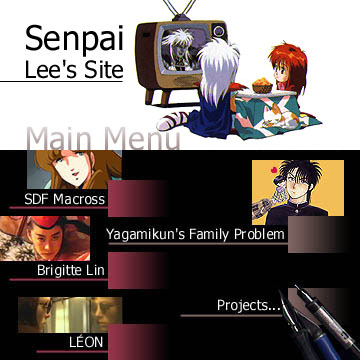 Welcome to Senpai Lee's Site, revised for 1999. Hopefully, return surfers will forgive my lack of updates; I've made up for it by enhancing the site with multimedia! Useful media that is, free MP3s and graphics, minus grating MIDI and banner overkill that plague many sites. The select links I have should also be useful; I don't need you to click them to keep my site online.The Menu pictures above will route you to pages for:
SDF MACROSS - my sentimental favorite anime
Brigitte Lin - the much-imitated queen of Hong Kong cinema
LEON Version Integral - Portman pictures from the uncut feature
Yagamikun's Family Problem - my adventure in OVA subtitling
Projects - anime wallpaper, my dojin and more
Lastly, my thanks go out to friends who keep my site running: Gunnar (HTML programmer with a vengeance) and Marijan (helpful site host and respected anime otaku).