Ordering, Shipping, Guarantees, Who to Contact.
---
Click on any of the words below to go to that catalog page. Site Under Construction: 6/21/05.
Mexican | Scandinavian | 1800-1940s | Ethnic | Costume | Fun Jewelry | Modern | Home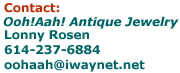 ---
Thanks for allowing us the opportunity to come into your home, office, or space and show you what we love to do. Finding, Buying and Selling Jewelry!
Orders
Every item of jewelry offered by Ooh Aah Antique Jewelry is guaranteed as indicated. We describe each piece as accurately as possible. Condition of a piece is indicated by: Excellent -- mint or nearly mint; as though it has never been worn. Excellent can also mean some it shows some wear -- but for the age of the item, it's in Excellent Condition. Really Good -- some wear. Good or Average --- physical evidence of normal wear without devaluing an average-wear piece of jewelry. Fair Condition -- still in good shape, though with some damage or repairs. All damage and repairs will be noted in the description of an item. Because of the fragile nature of vintage and antique jewelry, no warranties related to wearability or condition over time are provided.

When placing an order, be as descriptive as possible. Each item has a number on it. You can just use the number -- or the number and its description. It will help if you would also let us know what category the piece is in (such as &quotMexican," or &quotFun&quot, etc.). Please e-mail any questions and send your orders to: oohaah@iwaynet.net. We sell on a first come, first served basis.
Method of Payment
Ooh Aah will accept your check, money order, Visa or Master Card. If you're paying by check, your order will be shipped after the check has cleared the bank. However, at our discretion, this waiting period may be waived. Bad checks will incur a $40.00 fee. Visa and Master Card numbers can be sent by e-mail or you can call us: 614-237-6884. If you are concerned about the security of your credit card information traveling over the internet, we suggest you send the number as two separate e-mails, with half the credit card number in one note and the other half of the number in the second note. When using a credit card, don't forget to include your card's Expiration Date and the name, spelling clearly if you are leaving the information by phone call. Your order will be mailed after the credit card authorization process.
Return Policy
Your satisfaction is important to us. We will gladly give a full refund -- but we require notice of the desired refund within 24 hours of your receipt of the package. Should you wish a refund, we will provide the refund in the form of a check or money order, or as a credit to your Visa or Master Charge, if that was your method of payment. If you dispute a charge on your credit card, we ask that you contact us before you call Visa or Master Charge; credits are issued at no charge.

To receive a refund, the item must be sent back by return mail, at the Buyer's expense -- packaged appropriately, and insured if the piece was insured when sent to you.
Shipping
Ooh Aah wraps your items with great care and ships via Priority Mail. Pieces of a value greater than $100.00 will be insured by Ooh Aah. Cost of shipping and insurance will be incurred by Ooh Aah unless otherwise indicated at time of sale. Alternative shipping may be arranged by Ooh Aah and/or client, and that will be discussed prior to any shipping of merchandise.
Other Small Print
Ooh Aah is dedicated to the idea that business should be fun, ethical and profitable. We like to do the best business we can with other dealers as well as collectors. We understand the concept of pricing things high in order to come down. We sell in antique shows all around the country, and have items in various malls in our vicinity -- where we offer discounts, because it is what is expected of us. On this internet site, we have priced our jewelry at selling prices. We have included shipping at no charge (unless otherwise indicated at time of sale). So, there are no &quotacross the board" discounts offered. But, you can ask -- and we might say Yes or we might say No.
---
Click on any of the words below to go to that catalog page.
Mexican | Scandinavian | 1800-1940s | Ethnic | Costume | Fun Jewelry | Modern | Home
TO ORDER ...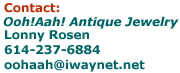 ---