Click on any of the category words below to shop our online catalog. Site Under Construction: 6/21/05
Our online catalogue offers an eclectic variety of antique estate and vintage collectible jewelry for sale. Our pages change often as items are sold (through antiques shows we attend, and sales from our pages). We're in our second decade of selling antique and vintage jewelry, a business we really enjoy -- and if we can share that passion with you, what a pleasure for us both! If a piece to uniquely delight you isn't here today, come back again because you may find it tomorrow -- or, get in touch with us because it could be in our inventory or available to us.

Mexican Silver (signed and unsigned)
Scandinavian Silver (signed and unsigned including Danish, Finnish and Norwegian designs)
1800-1940s (including fine and costume Victorian, Arts & Crafts, Art Nouveau, Art Deco, and Retro)
Ethnic (Native American and jewels of other countries including Peruvian, Scottish and Irish treasures)
Costume (signed and unsigned)
Fun Jewelry (bakelite, vintage plastics, wood, sweetheart, patriotic)
Modern (Art Moderne and Contemporary including pieces by studio artists)

To view our currently available items, click on any of the categories. To the left of our description for each piece of jewelry, you'll see a thumbnail image and if you click on that, you'll see a larger image of the piece. Use your back button to return to the descriptions page from a more detailed, large picture page.

To place your order, click on ORDER to send an e-mail message containing your name, phone number and the inventory numbers of the pieces you would like. We will let you know if the jewelry is still available in return e-mail. For more information on ordering, CLICK HERE .
---
Click on any of the words below to go to that catalog page.
Mexican | Scandinavian | 1800-1940s | Ethnic | Costume | Fun Jewelry | Modern | Order Info | Next Page
TO ORDER ...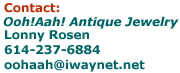 ---
Webmaster: Lonny Rosen (c)1996.